Suffrage Hats
It shouldn't be surprising that suffragists promoted certain fashion attire. Hats seemed to be a particular favorite of 20th suffragists and were part of a normal woman's attire.
British Suffragette hat, 1911
Of course American women wore hats for the cause. However, the price of the hat depended on where you lived.
This hat was advertised for the New York suffrage parade on May 4, 1912. The price in Arkansas and Washington D.C. was 28 cents. It was much more expensive in Kentucky at 38 cents:
And even higher in Ohio:
After the parade was held, a new 37 cent hat became the rage:
The idea of wearing the same hat was more about uniformity; the message--not the clothing--was important.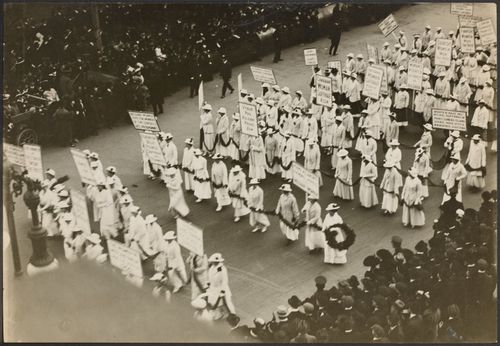 1913 Suffrage Parade in New York
The 1915 hat, adorned only with a ribbon of suffrage colors was to be worn in the October 1915 New York parade. No price was listed.
In May of 1916, more hats were advertised:
Note the price differences in the two hats. However, a month later, newspapers across the country listed the NAWSA hat at 25 cents.
Not sure if this is the same hat listed above but it was worn by suffrage protesters to parade at the same time as the Republican Convention:
Nina Allender was the illustrator for The Suffragist, the newspaper published by the National Woman's Party. She often used elements of the movement as metaphors in her illustrations:
Have a great day and you may need a hat today, it's supposed to be cold!